---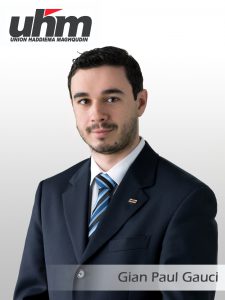 Gian Paul Gauci is the Senior Secretary for the Health Services Section at UHM.
Gian Paul Gauci was born in Pieta' on the 14th of January 1986. He received his formal education at St. Francis School Birkirkara and St. Aloysuis College. He graduated from the University of Malta in Library and Information Studies, while he also possesses two Diplomas in Music Theory and Music Composition.
Mr. Gauci worked as a Library Assistant at the University of Malta, whereby he used to Catalogue and Classify various subjects. He also Created and Implemented the Digitization of Dissertations Project (ETD) at the same University.
Gian Paul Gauci entered UHM on a full time basis in September 2010 as the Health Services Section Secretary and also held the position of UHM Youths President.
As a Secretary he managed to negotiate and conclude successfully 11 sectorial agreements whereby a number of reforms in the sector were introduced.
He is now seeking to reinforce the section focusing on two main parts of the section namely the Professional and the Ancillary branches. For this reason, two new Assistant Secretaries now complement the Secretary whereby Mr Ian Mark Zammit represents the Professional branch while Mr Charles Vella represents the Ancillary Branch.